Over mijn blog
Ooit een 'Rocket Scientist' maar al heel snel gesnapt dat ik niet moet rekenen aan raketten (mijn enige praktijkervaring: Ariane 501 -nee, ik was het niet!). Andere mensen enthousiast maken zit me meer in het bloed.
Na negen jaar bij ESA ben ik nu geland bij mijn thuishaven, de TU Delft, als woordvoerder/communicatie adviseur.
Dit blog gaat soms over ruimtevaart, maar meestal over mijn ervaringen in het communicatievak. Persoonlijk vind ik dat journalisten en voorlichters wel wat opener mogen zijn over hun samenwerking. Daarom probeer ik hier inzicht te geven in de afwegingen en keuzes die ik maak. Dat kan niet altijd, maar vaak ook wel.
Disclaimer
De meningen ge-uit door medewerkers en studenten van de TU Delft en de commentaren die zijn gegeven reflecteren niet perse de mening(en) van de TU Delft. De TU Delft is dan ook niet verantwoordelijk voor de inhoud van hetgeen op de TU Delft weblogs zichtbaar is. Wel vindt de TU Delft het belangrijk - en ook waarde toevoegend - dat medewerkers en studenten op deze, door de TU Delft gefaciliteerde, omgeving hun mening kunnen geven.
Posts tagged
philae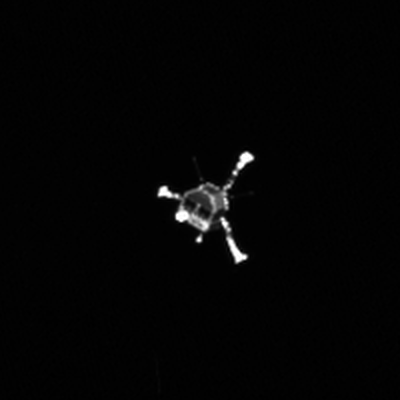 Friday evening, at 22.30, I wanted to go to bed. I failed. I couldn't let go off what was happening to a small  box named Philae, standing somewhat clumsily on a comet far away, trying to do science with a battery that was steadily coming closer to giving in to the inevitable: shutting down. Staring at Twitter, I was clearly not the only one who couldn't get himself to go to bed: thousands of people were following the faith of the small comet lander in real time. Right up to the moment the machine gave in and went into hibernation due to lack of power, at around 01.45 in the morning and only after delivering all its science data to its orbiter Rosetta high above. It might be the last we ever hear from Philae, and I witnessed it live and from the front row. Quite different from Wednesday, when I was 'VIP'  at one of the official events, when it first touched down. That might sound more thrilling, but in the era of social media: no it isn't.